Ella - 8 sessions face to face.
When I started my journey with Helga I was a shell of myself - I felt so trapped by anxiety and hyper-vigilance that I couldn't enjoy life. I was constantly tired and feeling unfulfilled. Over the course of my sessions with her I felt able to delve deeper into my emotions and thoughts than I had ever done before, and I felt supported and encouraged to do so all the way. We ended up doing a "rewind" session, and since then the change has been indescribable. I am able to function day to day in a rational, calm and positive way, and a brilliant subconscious side effect is that I have stopped biting my nails for the first time in my life! I can't put into words the transformative effect that Helga's sessions have had on me. I am a happier, more resilient, less anxious person as a result, and I will always be grateful to her for her kindness, support, and encouragement over the 8 sessions we had.

Ella (age 23)
April 2023
Ruby - 26 sessions online
My therapy with Helga was life changing. Helga facilitated me with grace, compassion and wisdom whilst I navigated PTSD, grief and sleeping issues. Through my sessions I was able to process many of the traumatic events in my life, move through challenging emotions and learn techniques to support myself whilst held in Helga's compassionate and attentive presence. Helga provided the perfect balance of feedback, listening and practical suggestions. I loved how she utilised the rewind technique, visualisation, mindfulness, and more as well as listening and asking the right questions to help me untangle each thread of thought and feeling and come to many empowering realisations. Helga is a kind, attentive, wise and dedicated therapist, from the very first session I felt safe, welcome and at ease.

Ruby (age 26)
January 2023
Text message of thanks from a client who had 4 sessions of therapy traumatised by witnessing the death of her father.

Hi Helga, I felt so great after the rewind trauma work! It certainly helped a huge amount. It really does work. I feel back to my normal self and have a lot of tools now to help me move forward with everything. I'm so grateful for your help, I was very sceptical beforehand, but would recommend yourself to anyone now. Again thanks for everything Helga you're amazing!

March 2022



A lawyer suffering with PTSD and burnout - 8 sessions.
I was fortunate enough to find Helga at a scary and incredibly low point in my life. Without judgement, and with extreme kindness, and a very human approach, she slowly gave me the skills to put myself back together again, and has taken me beyond that now, towards being a more happy, calm, rounded person. I don't know how I would have got there without her. All this she did virtually. When the world returns to normal, I owe her a very large glass of wine!

Holly
September 2020
From a client suffering with PTSD due to many layers of complex trauma.
When I met Helga, I was in a very dark place. I could feel that the other person inside of me was getting stronger and angrier every day, and I was afraid of what she might do, as I was losing control. I had tried counselling before, and although it helped a bit, it was just talking in the end, and it couldn't change the person I had become. After 40 years of abuse and PTSD symptoms increasing, I couldn't see a way out, and knew that I would end up in a psychiatric hospital or in prison, or dead.

I saw Helga's counselling service advertised and read up on the Human Givens Therapy and read that the therapy had even helped soldiers with PTSD, so it was worth a shot. I contacted Helga and told her that I was about to fall off a cliff and was hanging on for dear life and felt that I couldn't hold on any longer. A very dear friend of mine had just died, and at that time I felt that he was the only one who really believed that I was a good person, so without him I was nothing.

Helga was so good. She made an urgent appointment for me and on my first visit, she did Rewind therapy on me which enabled me to go to the funeral without going to pieces, and to face people who had hurt me so badly. I thought that because of the amount of abuse that I had suffered, that the therapy would have to go on for years, but six months on and my therapy was complete, and I feel like a different person now. I thought counselling was a money-making scheme, if I am honest; but Helga wanted to get it done as soon as possible, so that I could get on and live the rest of my life.I thought the rest of my life would just be an existence, living with all the pain and flashbacks, but she has changed all of that. I can listen to music again, without being taken right back to that moment of shear pain or terror. I can enjoy the beauty of the song, and the memory is now just like a music video I once saw. It can't hurt me anymore. She hasn't wiped out my memories of my life. I know what happened to me, but I don't have to feel it anymore. My body no longer freezes in terror and I no longer feel that I am not safe.
I am at peace now. I have made changes to my life to get rid of anyone who has a negative effect on me, and I am surrounded by people who I now believe really care about me, because I am special, and I am strong. The other person inside of me is quiet now, she no longer needs to feel angry, because it is in the past. I can't control the future and I know that bad things may happen, but I also know all the good things that I have in my life, and they are the things that get people through hard times. I believe for the first time, that I am truly a good person, and that I deserve good things. I am even starting a new job, where I sailed through the interview because I was not scared, I just needed to be me. And they love me just the way I am. They even know I had mental health issues and said that it has made me a more knowledgeable person.

I thank you Helga from the bottom of my heart, as you saved my life and gave me back to my family.
I urge anyone who feels that their life can't change or that their problems are just too complicated, please just take a chance and see Helga. Just give it a go and take the first step to give you your life back.

Louise. March 2019
An email sent by a parent after working with her son on anxiety and a vomit phobia. August 2017
Thank you so so much. I can see a huge difference in James already! My happy little boy is starting to come back! I haven't seen him like this for months. In the car he said he wished he'd come to see you earlier! I know its early days and we'll see how we go after the holidays but already the difference after two sessions with you is brilliant.

After the holidays the mum sent me another email:

James is so so so much better these days. You made a massive difference and literally made life so much easier!! I would wholeheartedly recommend you to anyone. I think people underestimate the power of therapy!
Feedback from some university students
Helga is a brilliant therapist, she really has helped me a lot and helped me improve over such a short time.
Helga once again was wonderful to talk to and helped me think of ways to remain calm and balanced during the exam period.
I had Helga, who was a massive help . She has been incredibly kind and receptive in every session and I am incredibly grateful.
I appreciate the help and support I've received. Helga Moore is excellent, thank you very much for everything.
Had the best session with Helga again, really feeling so much better.
I had Helga. She was amazing as always and she managed to make me smile.
Helga is an absolute delight, as she always is, and she really helped me.
Helga is just so lovely, she really listened and helped me so much.

June 2017
A poem of hope written by Charlotte after working together for two years
Open wounds are memories
but won't always be that way.
It's just the monsters that reside in you
have led your mind astray.
And when you feel you've spent eternity
living in the shade,
it's no wonder you are doubtful
that the pain will ever fade.
But the thing that you've forgotten
is you were born amongst the stars.
And a light that shines so brightly
can turn the worst wounds into scars.

2017
Nina - a client I worked with for 33 sessions:
Helga is truly one of a kind.
After trying 3 different teams within the NHS mental health services, with no obvious improvement, I was referred through a CAMHS CPN to Helga.
When I first met Helga, I was extremely overwhelmed with anxiety and fear. Despite not being able to talk much, and shaking for the first couple of sessions, she continued to support me in whichever way that I felt suited me best at that time. This allowed me to take the reins and open up when I was ready to, something I'd never encountered in mental health services before.
I quickly realised that I was able to trust her and I can safely say that this wonderful lady was the key to starting me on my road to recovery.
Since working with Helga, I've been able to control my anxieties and panic a lot better than I used to, as she has taught me various techniques and ways to cope with particular situations. It was only after her gentle encouragement, that I finally auditioned and later accepted my place at a vocational dance school. I'm currently striving towards my dream goals and I honestly believe that this would not have happened, if I hadn't been introduced to Helga.
I cannot recommend her highly enough!

Nina (aged 19)
2016
Olivia - a client I supported for a number of months
I lost my partner, my best friend, the man who lit up my life. I was in so much pain, it twisted my stomach and tightened my chest, every second of every day. Even when I was outside I couldn't breathe. I had this anxiety that got worse as it got darker and I just didn't sleep. When I eventually did I used to have these flashbacks of being given this tragic news that ripped my life apart and every day I would suffer through revisiting that time and that place in my own head. It was haunting. I was really struggling. I just remember how heavy my heart was. It was like there was no room left inside it for hope. I didn't have the strength to get up and go out for what must have been months. Helga supported me through the whole time. When I was stood on the edge of my own personal cliff, ready to step off she was the hand that pulled me away from the edge. On the darkest of days she gave me this gentle hope. This little light which worked its way brighter, from the corner of the room, up the walls, until there was a light in the sky again. I had 'rewind' therapy which took away the flashbacks which frightened me, and gave me back some control over my thoughts and my life. I started to feel less disassociated and started to realise that my life could go on, somehow, someway. I've learned to find moments of peace and happiness which continue to grow every single day. Helga taught me how to manage my feelings, she taught me how to be kind to myself throughout the most difficult days. She listened to me and made me realise that I was strong enough to get through and that it mattered that I did get through. I'm so grateful.

Olivia (aged 20)
2016
Gauri - a lady I worked with periodically for several months.
Life throws horrid things at us sometimes, and drowns us in these pools of quicksand where we can't think or see or devise our own way out, because it is happening thick and fast. It happened to me dreadfully, and I tried a few therapies to help me 'calm' myself and stop the awful panics and worries, however none worked.
That is until I met Helga and 'Human Givens' therapy. I have never been so relieved as after that first session. Relieved that here was someone who not only understood, but also had the means of helping, and she did, big time. I was able to put into place, tiny steps, which enabled me to climb out of my quicksand, and at last breathe again. Helga also helped me in finding ways of coping with future things that might pop up, using not only Human Givens techniques but the whole underlying foundation of organising ideas as well.
I really felt valued and cared about, and am ever grateful to an amazing woman!!

Gauri 2016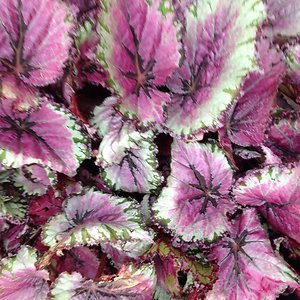 Jane, Paul, Sam and Mary - a family I worked with for 12 sessions.
We just wanted to say a big thank you for all your help and support to put our family back together again.
Jane (foster mum)

Thank you so much for all your help to get our family back together for once and all! And I loved the splatter painting!
Love from Mary (aged 10)
2013

(names changed to preserve confidentiality)